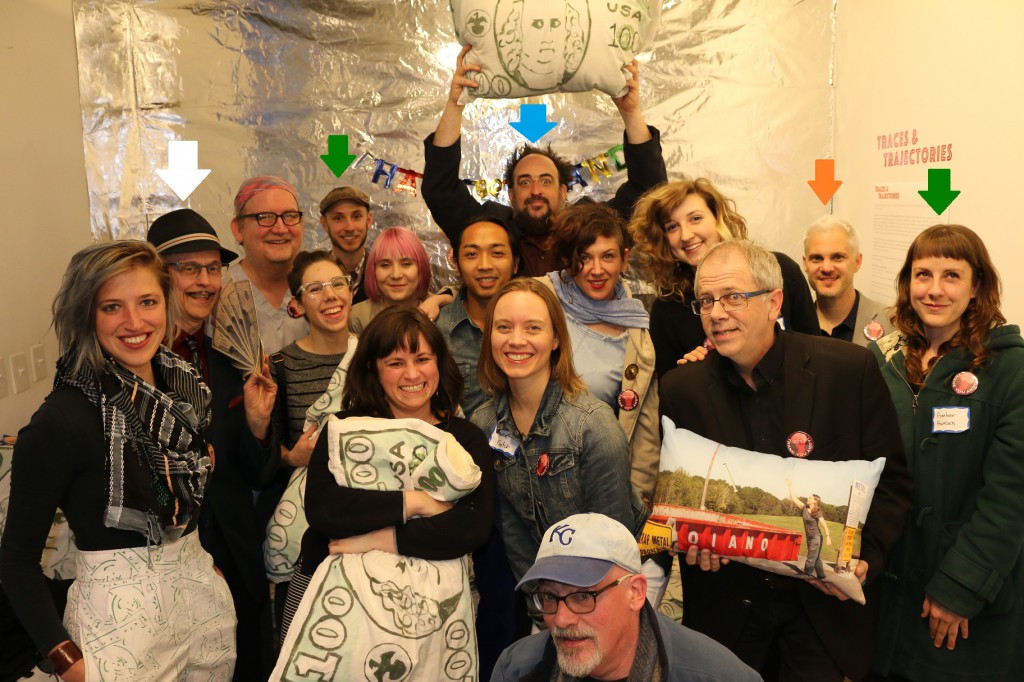 this pic is from the traces and trajectories closing reception a few weeks ago. the exhibit ran for a month at la esquina, and featured work from past and present rocket grants. beep goes the weasel didn't make the cut for this show, but angie and i were invited to the reception, and we got to meet some really cool people.
(white arrow) robert baker – in addition to being a john waters look alike, he portrays a news reporter in the current project live tv live.
(green arrows) nicholas ward and amber hansen – angie and i talked to them about their documentary, called to walls, which includes footage from joplin where they painted the butterfly mural.
(blue arrow) mark southerland – he was one of the people that helped get funding for beep goes the weasel. he also performed a musical piece at the reception, afterward i awkwardly approached him, said "hi… i just wanted to say hi," patted him on the shoulder, and walked away like a panhandler.
(orange arrow) jake wagner – he received a 2013 rocket grant for a project that tried to save vacant lots and empty houses in kansas city that were once lived in by notable jazz musicians.