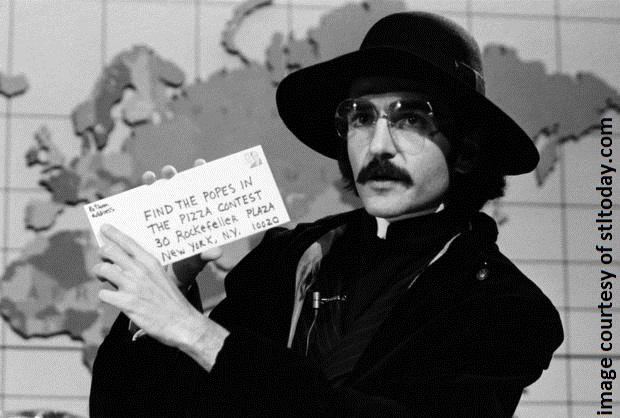 in the mid 1970′s don novello (pic above) was known as father guido sarducci on saturday night live. during that time he also mailed deranged letters to celebrities, corporations, and politicians under the alias lazlo toth. example: one letter is to TIMEX in regard to a commercial they aired that showed a woman who found a watch on a beach in malibu. lazlo writes: "i lost a watch a number of years ago, and i'm not sure, but i'm pretty sure it might be mine! i've never been to malibu but i figure a strong current could have carried it down there… could you please go through your lost and found box and see if it has the initials 'LT' on it, and also the inscription 'in case of accident call an ambulance.'" he actually received a letter from TIMEX telling him that they don't have a lost and found department, and suggesting that he buy a metal detector. lazlo (don novello) put all of his correspondence in a book, and called it the lazlo letters*
in his book lazlo says, "you send out letters, you get back letters, that's for sure!" i took lazlo's advice, and started sending emails and facebook messages to people in the film and print industry. so far i've made contact with one local author, and two independent film directors: jen mann, author of people i want to punch in the throat, joe medeiros, director of mona lisa is missing, and lloyd handwerker, writer and director of famous nathan.
*thanks chris mull for lending me your copy of this book!